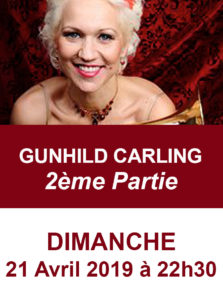 > GUNHILD CARLING " 2nd Part "

A Swedish and frantic Marilyn Monroe, that plays different instruments and sings as well as dances and tap-dances. She is an incredible show-woman whose performances are unpredictable and surprising. Gunhild Carling is a real musical phenomenon: well-known in her own land, Sweden, she is also a celebrity in the whole world, specially since her collaboration in the American band "Post Modern Jukebox", with millions of views on YouTube and an album of international success. She spends time in Europe as well as in the US, where she has been invited also by the Count Basie Orchestra. Gunhild Carling takes the audience along during her concerts thanks to her music, her presence on stage and her energy.
In 2013, she played with her "Carling Big Band" at the Royal Palace in Stockholm for the Ruby Jubilee of King Carl XVI Gustaf. In 2016, she played for his 70th anniversary.
Don't miss her performance in Mirepoix, it will be an exceptional moment!
http://www.gunhildcarling.net/